Born on June 4th, 1988, Kimberley Busteed is a well-known TV presenter on Channel 7 and is often seen hosting the weekly lottery draws of Oz Lotto, Saturday Lotto, Monday Lotto, and Wednesday Lotto.
But her career really started in 2007, when the blonde beauty won Miss Universe Australia and represented Australia in the Miss Universe pageant in 2007. SHe there competed against the winner from Japan, Riyo Mori. During the competition, which took place in Mexico, Busteed was heavily criticized for wearing a "tacky" national costume. Some of Australia's top designers even said the costume was "trashy" and "had nothing to do with Australia's culture". However, that same year she was still endorsed by designers Wayne Cooper and Peter Morrissey. And a year later, Busteed had obtained a position as a TV presenter for Channel Seven, where she now hosts Queensland Weekender, Creek To Coast, and weekly lottery draws. So, even though Kimberley did not win Miss Universe and had received rude comments about her costume, Busteed's participation in the Miss Universe pageant still really helped her make a name for herself and jump- start her career in the TV industry. She was even seen in an episode of the Australian TV series Sea Patrol in 2010!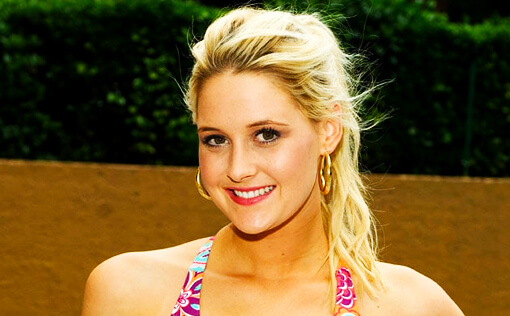 In addition to her career as a TV presenter, Kimberley has also worked on global campaigns, such as Olivia Newton John's 2008 'Great Walk to Beijing'. She has also worked with famous companies, such as the luxury car manufacturers Alpha Romeo and Audi, the beauty and hair salon group called Stefan, as well as fashion and retail brands such as Westfield C Threadbare and Co. Not to mention, Kimberley was the ambassador for Chanel 7's Brisbane Racing Carnival as well as the 'Magic Millions' event.
As for Kimberley's life outside of the TV industry, she was born in Gladstone Australia and used to be a teen swimming champion and surf lifesaving competitor. She is also involved in and works extensively with the Leukemia Foundation because her brother passed away at the age of nine. Kimberly is currently married to Chris Simpson and is the mother of two lovely children.
Now, the former beauty pageant contestant and current media personality, TV presenter, and media producer has made a name for herself and is in high demand for various live events, including corporate events, dinners, and balls.