Born on October 11th, 1982, Liz Cantor is an Australian TV personality and well-known lotto host for Channel 7. She has been seen hosting the draws of Oz Lotto, Powerball, Saturday Lotto, Monday Lotto, and Wednesday Lotto.
Before starting her TV career, Liz attended high school at St Peters Lutheran College at Indooroopilly, west of Brisbane city. She then went on to study journalism and meteorology at Griffith University, where she joined many different clubs - the string quartet and orchestra, basketball, softball, hockey and debating teams. Cantor graduated Griffith University in 2003 with a Bachelor of Communications.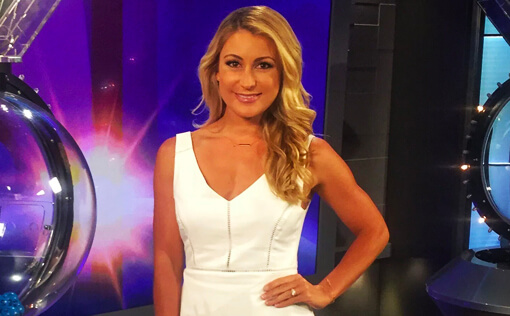 Liz Cantor made her first on-screen debut in 2002 in an Australian feature film called Blurred. A year later, in 2003, she appeared in a film called Gettin Square. In 2005, Cantor landed a role on the Australian drama series called Blue Water High. That same year, she won a spot on The Mole, a Channel 7 reality show, which kickstarted her TV career. On the show, she had to complete different challenges and compete against 12 other contestants. Cantor won the show and left with AUD $200,000 of prize money.
After this big win, Liz's TV career really kicked off. First, she was hired by Channel 7 to be a presenter for two different programs. One of which is a Queensland's water-based outdoor adventure lifestyle program called Creek to Coast. The other is called The Great South East - a travel program in South East Queensland that focuses on different tourist attractions. That same year, in 2005, she also debuted as the weather presenter for Channel 7 News. A few years later, in 2008, Cantor became a lotto draw host. Liz is currently still involved in all of these programs.
In addition to her professional TV career, Liz also has experience working on the radio. She has filled in on various summer radio shows for Nova Brisbane, Hot Tomato and Sea FM on both the Sunshine Coast and the Gold Coast. In 2013, she also covered the Melbourne Cup for B105, where she interviewed Gerri Halliwell, Brody Jenner, and Cadel Evans at Flemington.
Random fun fact about Liz Cantor - she has a huge passion for surfing. So huge, in fact, that she used to be a professional surfer! She competed on the Australian junior circuit for 5 years, was sponsored by Billabong, and her surfing career has taken her to many different parts of the world - Fiji, Tahiti, the Maldives, Hawaii, and Europe.