Born in 1982, Luke Kennedy is an Australian lotto host on Channel 7, often seen on draws such as Oz Lotto, Powerball, Saturday Lotto, Monday Lotto, and Wednesday Lotto. However, Luke is best known for his performance/singing career.
It all began when he was 16 years old in Townsville, North Queensland, where Kennedy performed in various local productions, such as Jesus in Jesus Christ Superstar, Marius in Les Misérables and Mary Sunshine in Chicago. Later, in 2002, he moved to Brisbane and continued to perform in different productions, including The Wiz, Alice, Beauty and The Beast, Children of Eden, and Jesus Christ Superstar. In early 2008, Luke joined the international touring group - The Ten Tenors. In nearly two years on the road, he had performed shows on nearly every continent of the world, including countries such as Spain, Switzerland, Mexico, Peru, Norway, Germany, Russia, South Korea, the USA, Australia, New Zealand, France, the Netherlands, Poland, Slovenia, and Australia.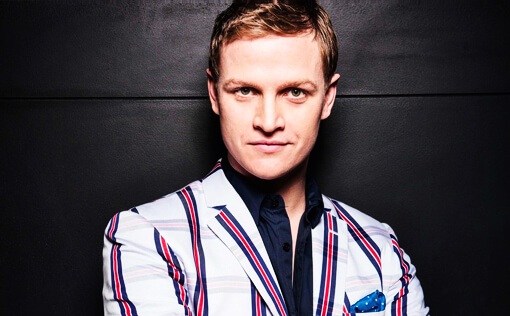 But Luke's career really kickstarted in April 2013, when he auditioned for Season 2 on The Voice Australia. During his audition on April 10th, 2013, he wowed the coaches singing "Un Giorno per noi (A Time for Us)". All four coaches turned their chairs with standing ovations. But when it was time to choose a coach, Kennedy chose Ricky Martin. Kennedy eventually reached the top two in The Voice but placed second to Harrison Craig.
Even though Luke did not win first place, his participation in the show really helped with his career. After the show, Luke, along with other finalists, signed a record contract with Universal Music Australia and announced that his debut album "A Time For Us" would be released on July 12th, 2013. Following his success, Luke performed with Ricky Martin as a special guest on his 2013 Australian tour. Luke also completed a solo tour to promote his album, A Time For Us, featuring the songs that he had sung on The Voice Australia. On July 13th, 2013, A Time For Us debuted at number 6 on the ARIA Charts with 3,806 sales nationally. It stayed in the top ten the second week as well. Luke was the first artist to have a Top Ten hit in the ARIA charts.
Other releases of Luke's include his single "Stay For A Minute", which was released on July 5th, 2013, "O Holy Night", which was released November 29th, 2013, and "Skin & Scars – EP", released in August 2015.
Currently, Luke is a TV presenter for Channel 7, where he hosts the weekly lottery draws as well as works on Queensland's popular weekly travel and variety show "The Great South East".